Visit the below online resources to learn more about about voting, candidates and voter protection or call 1-866-Our-Vote.
Black & Brown People Vote is a civic education, engagement, and empowerment initiative aimed at increasing voter turnout within communities of color.
---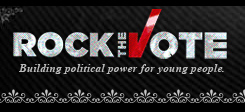 Fusing pop culture, politics, and technology, Rock the Vote works to mobilize the millennial voting bloc and the youth vote, protect voting rights, and advocate for an electoral process and voting system that works for the 21st century electorate.
---
 Project Vote Smart provides free, unbiased, in-depth information about current officials, candidates, issues, legislation, and voting.
---
The Election Assistance Commission (EAC) is an independent agency of the United States government created by the Help America Vote Act (HAVA). The Commission serves as a national clearinghouse and resource of information regarding voting. EAC also provides voter guides in 11 languages and a variety of links to helpful resources for voters relating to registration, military and overseas voting, accessibility, and volunteering as a poll worker.
---
Launched by the League of Women Voters Education Fund (LWVEF), VOTE411.org is a "one-stop-shop" for election related information.